61
« on: 08/24/13, 04:18:34 PM »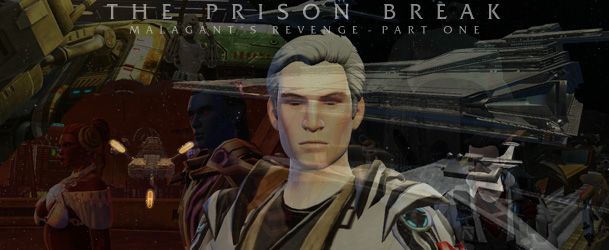 Darth Malagant felt consciousness return to his body as the stasis field deactivated. He had been stripped down to his lower robe, and his shoes had been taken from him; the Force binders were still tight around his neck and wrists, and he could feel the constriction in his generously-fleshed limbs. That was the one thing with stasis cells...you didn't change at all, no wasting away or starvation. Just sensory blackout. Not long after he arrived, he had been moved to a block of ancient cells...cells that were now open. The mysterious race that was imprisoned here by the Rakata roamed this part of Belsavis freely...though not without some conflicts with the Republic garrison and the Imperial troops trying to discover the place's secrets.
Blinking to clear his blurry vision and shivering in the chill, the Sith sorcerer looked up to see who had deactivated the cell, and was not surprised to see the white-haired, white-robed, white-armored figure of Saxtus Fayhan. "Another...chat, Saxtus?" he croaked, his mouth dryer than the Dune Sea. Actually, that was one drawback - being in stasis for prolonged periods made you terribly thirsty.
"Another chat, Malagant," the Jedi Master replied as he handed his prisoner a small canteen of water, which the Sith Lord drank gratefully. He had been sent from Tython three days earlier by Iaera Farworlder, and had arrived with the
Direwolf
- with first mate Jeremiah August acting as captain while the ship's master, Eidan Zherron, recovered from his "ordeal" of the day before Fayhan left, exploring one of Taelios' vaults with a team of fellow "scoundrels" and soldiers. "Your apprentice attempted to dictate terms to Master Farworlder on Kwenn almost a week ago. The day after that, he broke into the Custodum Council's secure holo-net and mocked us. Did you scar his face for being cheeky?"
Malagant merely smiled; inwardly, he was surprised that Veerak would show his face. He always wore the dark hooded robes, the mask he had given him... "Not at all, Saxtus. Korriban leaves its mark on some people." His own body bore signs of scarring - along his right arm, his left hand, above his right nipple, and on his right shoulder, among others - though none on his face. "Sith acolytes are very competitive. They have to be. Those who don't measure up, die. Survival of the fittest. What do you do with your failures? Make them librarians, paper-pushers. We kill ours. Often during the trials themselves."
"You would do away with those who still have a purpose?"
"Purpose?" Malagant snorted. "Now that I think on it, Saxtus, you Jedi essentially enslave your failures, don't you? You can't possibly have untrained Force users running amok to be picked off by the Sith, can you? So what do you do? You lock them away in your dusty Archives. You keep tabs on them, keep them where you can see them. To allow such people to run amok in public? Lunacy! So you make them go through your precious histories, catalog your artifacts. You make it sound like a noble duty to them, so that the pill they have to swallow for failing to become Jedi is not so bitter. 'You're helping preserve the history of our Order,' you might say to them."
"You make that sound as if it's a death sentence."
"Isn't it? Most of these poor kids you pick up have families, Saxtus - not all Jedi prospects are orphans of war, like your Miraluka children. Some are the children of failures who will never amount to anything. You give total screw-ups a false sense of hope by taking their kids for Jedi training - and when they fail, the kids rot in the galaxy's most boring library for the rest of their days, and their family never hears from them again. I always knew you Jedi were secretly sadistic...but even to someone like me, that's cold."
"Who would Veerak go to in order to bail you out?" Fayhan asked, uncomfortable with the questioning.
"Ah; the man on business returneth. Pity." Malagant's smile widened. "You don't really think I'd just tell you, do you? So you can make plans? You're a smart man, Saxtus. Guess."
"Veerak himself would come, most likely...that's partly why I'm here..." Fayhan thought it over. "Kieran wouldn't, he's the one who sent you here." At the mention of Kieran, Malagant's smile faded, and he let out a snarl. "Your pet bounty hunter, possibly. Veerak might also be able to convince his brother to fight for the 'right side'." Fayhan did not mention Andav, and Malagant - though blocked to the Force - noticed.
"And my brother as well," he said aloud. "Unless you have him here too?"
Fayhan was hesitant, and now he couldn't hide it. "No," he said finally.
Malagant's eyes suddenly widened as he realized... "You killed him," he whispered. "You sniveling Jedi pig, you killed him, didn't you?"
"No, I did not." That much, at least, was true.
"Lying bastard," Malagant hissed, his voice filled with hate and rage. "Liar! Kidnapper! MURDERER!"
"And what does that make you, Malagant?" Fayhan replied, anger tinging his voice. "You, who unleashed an insane man to destroy a city! Who murders and tortures to get what he wants! You're a stain on the Force...and if I did not uphold our code when it came to prisoners, you would be dead right now!"
"Yes, Saxtus, because the current situation is so much better, isn't it?!" Malagant shouted back. "Oh, you'll say 'I didn't do it, I wasn't there', but it was your plan that led to this - and it was likely your plan that led to Andav's murder! Who was it, Saxtus? Was it that cowardly swine Zherron? Or that scar-faced green bitch? Or perhaps one of your Miraluka pets? How will it feel when I wring the life out of your friends?!"
Fayhan swiftly injected a sedative into the raging Sith Lord. "Back to sleep, Lord Malagant," he said evenly. "I think we've spoken enough today." He gently placed the unconscious man back into the stasis cell and activated the field, and Malagant was again floating in air and energy.
Leaving the cell block - careful to avoid any of the "restless natives" - he met with August back at the small Republic outpost. "Well?"
"Keep an eye on this cell block, Mister August...I will return to the MaxSec sector. If there is any change or sign of an incursion, I will alert you at once."
"Understood."